Well haven't you?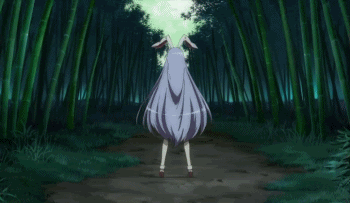 Anyways
moving onto the story of
NToJ
. Remember Maribel got injured back in
TGA
when she took Renko to Torifune? Apparently she was diagnosed with delirium caused by some virus that did not exist on Earth. She was quarantined deep in the mountains since the society feared anything that was outside its control. Anyway Renko got the news that Mari had fully recovered, so she went to the sanatorium to meet Mari. Mari complains about how they wouldn't let anyone meet her even though she has no relatives in Japan. Renko asks what Mari's illness really was. Mari says that it's apparently high fever, as well as sleep walking and hallucinations of another world. To which Renko replies, "Eh? Isn't that totally normal to you?"
The two of them then went sight-seeing around
Shinsyuu
(now Nagano Prefecture), where the sanatorium was. The two of them came across the Zenkou temple, which was caught in the terrible
Zenkoushi
earthquake. Renko says that back then people thought the dislocations between the temple's main pillar and its base were caused by the earthquake. Of course now they found out it was the result of the wood decaying. However, people would rather keep on calling it the "earthquake pillar" to remind future generations the horror of earthquakes. Mari, however, could see an earthquake that can even deform the entire pillar (Tenshi?).
Heartfelt fancy. Lately not only can Mari see the gaps of boundaries, she can seemingly see the scenery of another world. Furthermore, she can actually move into that world. It was exactly the same back then on Torifune. For Renko it was probably just a dream, but that was reality for Mari. It's because of this, Mari was only one who got injured. The reason she went to the sanatorium was because the doctor thought she was insane. The truth of course is that Mari is perfectly sane, it's just the society cannot accept oddballs like her. Therefore her power must be kept a secret. Renko notices Mari doesn't look too well, Mari says she saw a little too much. When Renko asks her what she saw, Mari replies that she saw Hell (among other things).